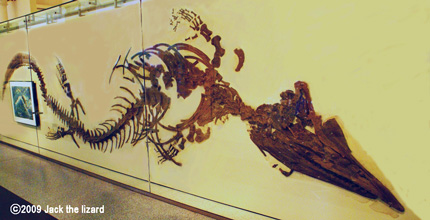 Tylosaurus
Tylosaurus is a member of the Mosasaurus family. Mosasaurus were the group of marine lizards that lived during the Late Cretaceous period. The diets of Mosasaurus were fishes and other marine animals.
Tylosaurus lived during the Late Cretaceous period about 85 years ago. Xiphactinus and flying carnivorous lizard Pteranodon were also lived same period of time. The fossil is from Kansas, U.S.A.
Cryptocleidus
Cryptocleidus is one of the Plesiosaurs, a group of marine reptiles that lived from the late Triassic to the end of the Cretaceous. Plesiosaurus had well-developed muscles around shoulders and pelvic. Those muscles were useful for swimming.
Cryptocleidus is a short-necked Plesiosaurs that lived during the Late Jurassic period about 150 million years ago. The fossils were collected in England.