Ocean without Boundary
Most of sea turtle species are on the red list of the International Union for Conservation of Nature (IUCN). Sadly loggerhead and green sea turtles are ranked as endangered species. Furthermore Hawksbill and leatherback are designated for the critically endangered species, means that they are next to face extinction.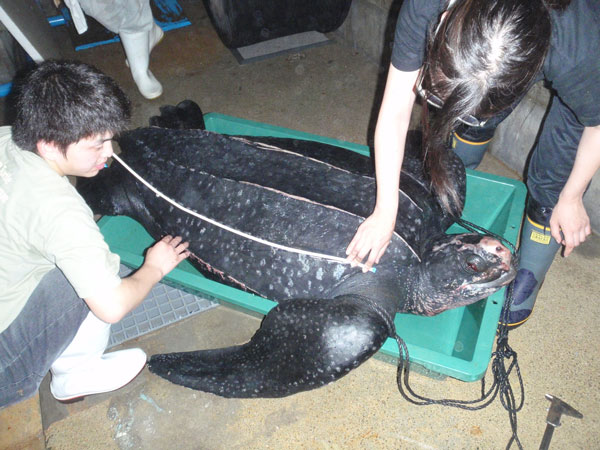 A leatherback Sea turtle bycatched offshore Muroto
(The image provided by STAJ)
Matuzawa is a member of the marine turtle specialist group in IUCN and he is involved in making decisions on sea turtle status of the red list.
"Sea turtles swim around all over the world ocean and their life span is relatively long. Therefore some doubt that sea turtles and land animals get same status on the red list. For that reason the marine turtle specialist group may make new category for sea turtles." said Matuzawa.
Moreover sea turtle conservation in Japan is included in 10 urgent issues on world sea turtles announced by IUCN. To reduce bycatch U.S.A. and Mexico also created prohibited fishing zone and call fishermen to cooperate with. The world is waiting the response from Japan.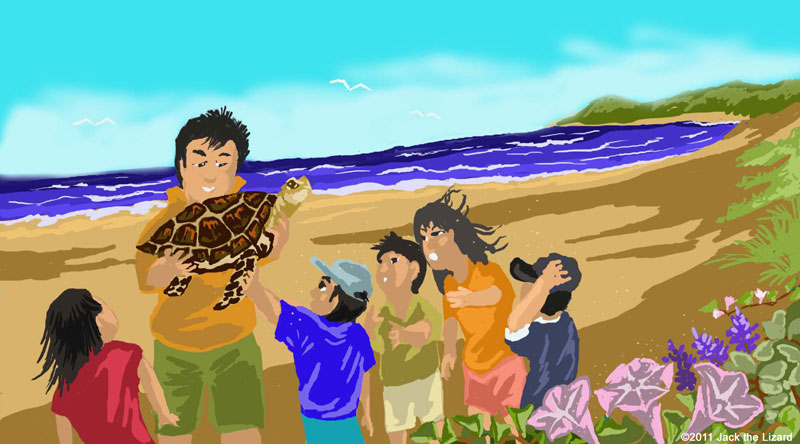 Senri beach in Minabe town in Wakayama has the highest density of laying eggs by sea turtles in Honshu Island of Japan. Matsuzawa explain to local children about sea turtles, their beach and environment using the model of sea turtle.
Okamoto explains that the sea turtle conservation has complex aspects.
"A sea turtle plays key role in one of the most famous folktale in Japan called Urashima Tarou. If sea turtles disappear from the sea around Japan, we cannot pass it to next generation". Some fishermen make the monument for sea turtles to console their soul while some communities traditionally eat sea turtles. I think that cultural and traditional value of sea turtles is also important."
Matuzawa thinks that it is necessary to save the whole ecosystem surrounding sea turtles.
"We are able to understand the condition of a forest by studying some of large land animals such as tigers and bears. Sea turtles are same position in the ocean and as an umbrella species protecting them means conserving whole ecosystem surrounding them. Not only fishing industries can get benefit from this act but people can enjoy the leisure at beaches too." said Matuzawa.